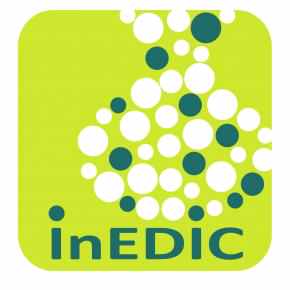 InEDIC – Innovation and Ecodesign in the Ceramic Industry is a project funded by the EU Lifelong Learning/Leonardo da Vinci Program, coordinated by LNEG-UPCS (National Laboratory of Energy and Geology, Sustainable Production and Consumption Research Unit) from Portugal.
The project's primary goal is the development of ecodesign training materials and tools to the ceramic industry in order to provide designers, training and education organizations and businesses with the skills for the systematic integration of environmental considerations in the development of their products.
The materials have been tested in a business environment through pilot training and demo projects, and will include an Ecodesign Manual, Support Material for Trainers, databases of materials and technologies relevant to the sector and including environmental features, and case studies. All these resources are available on line in partners' languages plus English.
The InEDIC consortium involves an international partnership from Portugal, Spain and Greece, totaling 18 partners with proven expertise in the area of ecodesign and in the ceramic sector. The partnership includes research centers, training institutions, associations and companies.
Work planning and timetable
The project period is 1 October 2009 – 30 November 2011.
Outputs
InEDIC Ecodesign Manual, available on line in partners' languages plus English
Support material for trainers
10 demonstration projects
Databases of technologies and materials
Other resources (news, bibliography, articles, events, ect) at the webasite
www.inedic.net
Lead partner
LNEG – National Laboratory of Energy and Geology, Portugal: www.lneg.pt
Other partners
CORE PARTNERS:
CENCAL – Vocational Training Centre for the Ceramic Industry, Portugal: www.cencal.pt
CPD – Portuguese Design Centre, Portugal: www.cpd.pt
CTCV – Technological Centre of Ceramics and Glass, Portugal: www.ctcv.pt
IPL – Leiria Polytechnic Institute / ESAD – School of Fine Arts and Design, Portugal: www.esad.ipleiria.pt
PROSPEKTIKER – European Institute for Future Studies and Strategic Planning, Spain: www.prospektiker.es
ITC – Institute of Ceramic Technology, Spain: itc.uji.es
ARVIS, SA, Greece: www.arvis.gr
TEST PARTNERS:
Cerâmica Moderna do Olival, Lda., Portugal
Faria & Bento, Portugal: www.fariaebento.com
Porcelanas da Costa Verde, SA, Portugal: www.costa-verde.com
REVIGRES, Portugal: www.revigres.pt
Cartonajes la Plana, Spain: www.laplana.com
CERACASA, Spain; www.ceracasa.com
DIEK – Volos Public Vocational Training Centre, Greece: www.diek.gr
1st Volos Ceramics Workshop/Laboratory, Greece
2nd Volos Ceramics Production and Workshop/Laboratory, Greece
Lehonia Ceramics Workshop/Laboratory, Greece
Financing
Lifelong Learning Programme, Leonardo da Vinci Subprogramme, Transfer of Innovation.