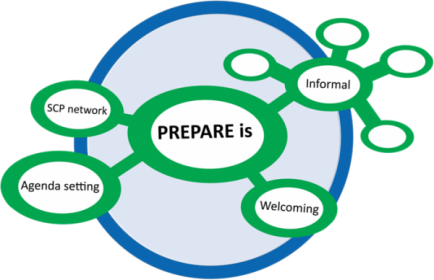 # Setting the SCP agenda by proactively catching up on new challenges and develop new innovative solutions
# A network for SCP-experienced individuals, based on high integrity and independence of any specific interest groups
# Informal in its organizational structure, flexible in its demands to its members and fun in the way we work together
# Welcoming new members to the open and inclusive network, where new initiatives and projects are the driving force
What´s in PREPARE for you?
# Sounding board – Sparring with competent and experienced partners
# Collaborative research – Work with people from all over Europe
# Network development – Meet, eat and generate projects with nice and competent people
# Training – Gain experience on workshops and conferences
# PREPARE university – Take part in lectures to local universities and institutions – either as lecturer or listener
# Thematic groups – Form groups that share your interests and share experience, network and projects
# Market place – Offer your ideas for projects or take part in developing other peoples' ideas into projects
The members of PREPARE come from research institutions, consultancy, public administration, governments, industry and international organizations. In addition, PREPARE has a memorandum of understanding with UNIDO and the associated national cleaner production centres from many parts of Eastern Europe.
How can I join  PREPARE?
You can apply for membership by signing up here. If your country is already member, we recommend that you contact the national PREPARE-partner. This way you can coordinate and share expenses.
The actual contributor organizations and their representatives are listed below:
Austria – Mr. Hans Schnitzer , STADTLABOR (hans.schnitzer@stadtlaborgraz.at)
Austria – Ms  Maria Kalleitner-Huber, Austrian Institute for Ecology (kalleitner-huber@ecology.at)
Austria – Mr. Johannes Fresner, STENUM (johannes.fresner@stenum.at)
Czech Republic – Mr. Pavel Ruzicka, EMPRESS (pavel.ruzicka@empress.cz)
Denmark – Mr. Arne Remmen, Aaalborg, University (ar@plan.aau.dk)
Germany – Ms. Sonia Bauer, Ramboll (sbe@ramboll.com)
Greece – Mr. Dimitrios Karadimas, Vision Business Consultants (dkaradi@otenet.gr)
Italy – Mr. Tiberio Daddi, Sant'Anna School of Advanced Studies (tiberio.daddi@sssup.it)
Poland – Mr. Thomas Schoenfelder, ATMOTERM (schoenfelder@atmoterm.pl)
Portugal – Ms. Cristina Rocha, LNEG (cristina.rocha@lneg.pt)
Romania – Ms. Aida Szilagyi, National Centre for Sustainable Production and Consumption (aidaszilagyi@cnpcd.ro)
Slovakia – Mr. Martin Dolinsky, EKOrast (martin.dolinsky@ekorast.org)
Slovenia – Mr. Peter Glavic, University of Maribor (peter.glavic@um.si)
Spain – Ms. Oihana Fernandez , PROSPEKTIKER (o.hernaez@prospektiker.es)
PREPARE Mission & Vision​
Mission
We PREPARE the future by connecting stakeholders and by being a change agent for sustainable consumption and production.
Vision:
# To act as a change agent for Sustainable Consumption and Production (SCP) through our knowledge, connections and projects
# To identity relevant SCP areas and develop new connections, projects and activities
# To learn by sharing SCP experience and cutting-edge knowledge
# To obtain a critical mass of SCP expertise by attracting and retaining members of our network
The PREPARE Network is administered by a secretariat (the PREPARE Secretariat), a preparatory committee (PrepCom) and a chairman. This organization changes every three years.
The Secretariat takes care of daily tasks and finance.
In 2021 – 2023, the PREPARE Secretariat is hosted by the StadtLABOR www.stadtlaborgraz.at in Austria. The PREPARE Secretariat is managed by Mr. Hans Schnitzer (hans.schnitzer @ stadtlaborgraz.at). 
The chairperson works for the development and efficiency of the Secretariat and the network in itself.
Any questions? Just ask us on prepare @ stadtlaborgraz.at